Dental Implants in Connecticut for Natural and Confident Smiles
Dental implants are a good choice for replacing missing teeth and restoring a beautiful smile.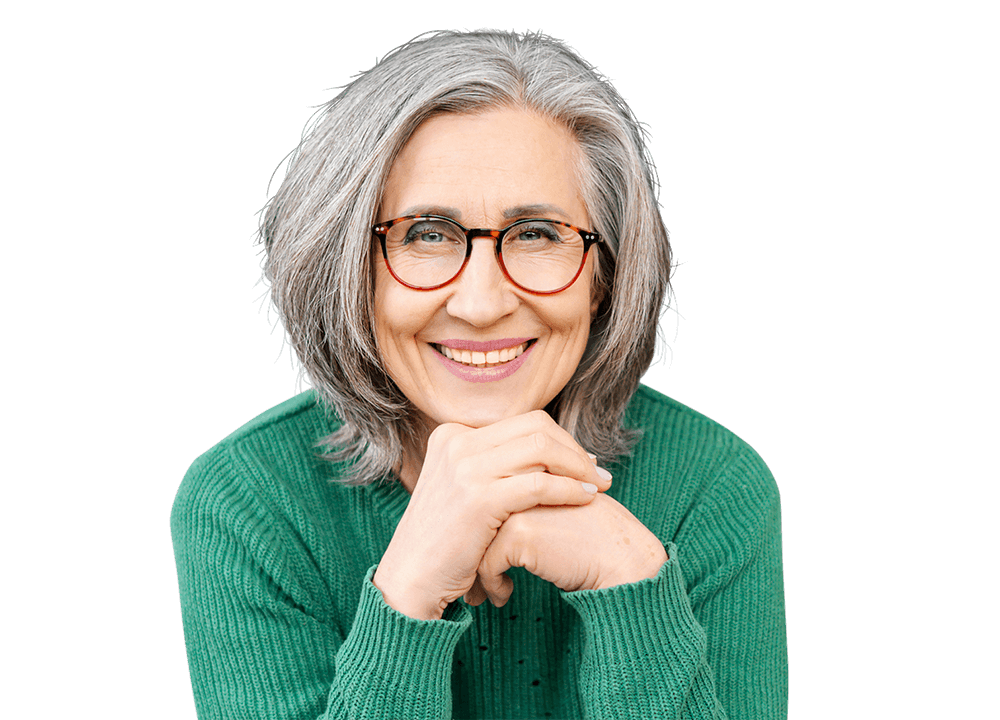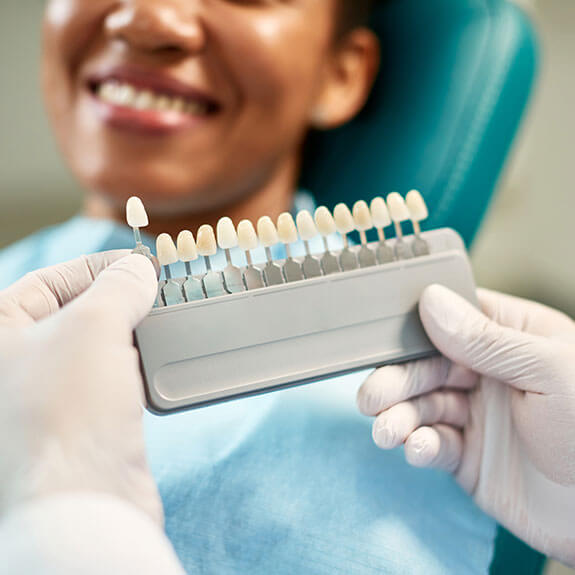 Why Implants?
Dental implants are an excellent solution to:
Restore a confident smile
Improve chewing, speech, and digestion
Resolve bite
Problems caused by teeth shifting into a missing tooth space
Restore or enhance facial tissues
Support a bridge or denture, making them more secure and comfortable
What to Expect
Before

Treatment

Before you get dental implants, make sure to get a good, thorough cleaning. The process of dental implant placement requires several visits over a few months. X-rays and impressions (molds) of the jaw and teeth are taken to determine bone, gum tissue, and spacing available for an implant.
During

Treatment

During a dental implant treatment, the doctor will numb the area, and while it is numb, the implant will be surgically placed into the bone and allowed to heal and integrate itself. A second surgery may be required to place the "post" that will hold the artificial tooth in place.

After a few weeks of healing, the artificial teeth are made and fitted to the post portion of the anchor. After a healing period, the artificial teeth are securely attached to the implant, providing excellent stability and comfort to the patient.
After

Treatment

You will receive care instructions when your treatment is completed. Good oral hygiene, eating habits, and regular visits to our CT dental clinics will aid in extending the life of your new implant.
Your First Visit
Your first visit will consist of working with your dentist to determine the appropriate dental implant treatment plan. You will have x-rays and impressions done to find the proper placement for the implant. Be sure to ask your dentist about any questions or concerns you have during this visit.

Modern Dentistry
You can find all the latest technology at our CT offices.

Judgment-Free Office
We're here to help you feel confident in your smile. We provide a safe, judge-free zone for any dental issue or concern you have.

On Your Schedule
Taking care of your dental health should fit within your schedule. We are open late and on weekends so you can get the care you need.
Are you worried about the cost of a visit to get partial or full dentures? Don't panic. We work with over 200 dental insurance plans and offer flexible payment plans for your convenience.






No Insurance?
No Problem.
Making An Appointment Is Easy
Don't have insurance? That's not a problem with us. We offer payment plans and accept most major credit cards, personal checks, and more.
I originally came to this office because I broke a tooth while my dentist was on vacation. Dr. Steve was great so I decided to stay. Not only was he personable but he was so gentle that I got drowsy while he was drilling. There was a problem with my insurance and the office worked it out so that it would be no additional charge.
My service was exceptional as always. Dr. Benedetto took me in last minute to fix my chipped tooth. He is so delicate and so sweet. I always feel like he actually cares about his patients. His assistant was also very nice. I highly recommend Dr. Benedetto professionalism to everyone.
The Staff at Southern Dental are all knowledgeable, helpful and courteous. I was treated in a respectful caring manner. They are the dentists your not afraid to go to!
Dr. Steve DiBenedetto and his assistant were so great! For over 45 years I have dreaded dental visits until I found this practice a few years ago. This last time was a cracked molar requiring a crown. It was a painless process! The staff are all pros and super welcoming and friendly. Highly recommend!
Wonderful dental practice. The dentist and hygienist are friendly, professional and keep to the appointed time. I also used the services of the in-house orthodontist for Invisalign. Another skilled professional. I'm very happy with the outcome. I would recommend this office and it's services without any hesitation.
I don't think anyone likes going to the dentist. That being said, this is the place to go. I had a cracked tooth fixed/cavity replaced. Completely painless! In and out. Dr. Scott was great, as well as the rest of the staff.
Let me start with, I don't like dentists!, lol. With that being said, this is the most caring and efficient dental practice there is. The staff from the front door to the dental exam are so kind. Doctor Steve is just the most caring dentist I've ever met.
I cracked a tooth. They got me in right away. Super nice people. Great personalities. I love these guys. Efficient,Great results, and most of all totally painless. I would recommend them to anyone.
LOVE this practice. From day one every single person working here has been so friendly, helpful and kind. My kids are actually excited to go to the dentist here. I also like that they provide options and alternatives for expensive procedures but never push you spend extra. HIGHLY recommend!!!!
The staff is phenomenal. The front desk is always pleasant and helpful, the dental assistant is friendly and knowledgeable, and the dentist is the most cheerful person I have ever met. Very trustworthy practice.
FAQ
Frequently Asked Questions
What technology is used for dental implant placement?
The dentist that performs the procedure should have the latest 3D digital technology, which will allow him/her to mark the nerves and 'plan' the implant site. This technology shows the exact location, depth, and angle of the implant prior to placing it in the mouth. An implant guide is created from the data, which is used to 'guide' the drill into the bone ensuring the proper angle, depth, and placement.